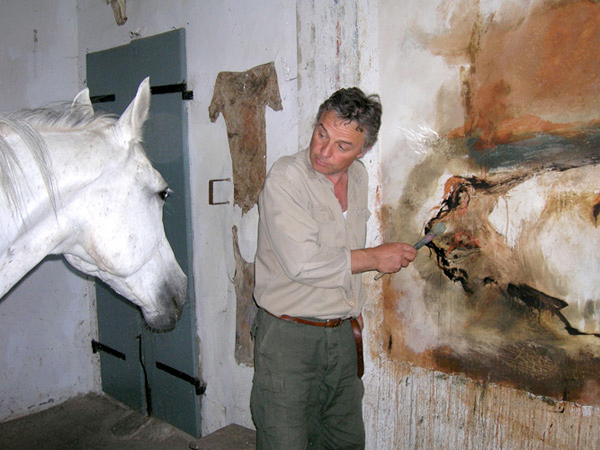 Biography
---
Carlo Romiti was born in 1953 in Castelfiorentino (Florence) and graduated at the Fine Arts Academy in Florence.
He has been the director of a theatre workshop at the Visual Arts Centre in the Comune of Certaldo since 1987.
Has collaborated in the publication of educational texts with an expressive arts research group at the Facoltà di Magistero of the University of Florence.
Carlo also teaches courses on painting techniques for the Educational Departments of the Uffizi and the Prehistoric museum in Florence.
Carlo's works of art are created in the natural colours offered by the chromatic array of the soils, meticulously chosen in the area where he lives and works.
Carlo exhibits his paintings in Italy and abroad and lives in the countryside near Gambassi Terme between San Gimignano and Volterra.
---
Painting and technique
---
Carlo Romiti has been painting for years using earth which he himself collects.
His painting starts in the very same moment he scrapes at an embankment and collects the first handful of earth. The pursuit of an ancient technique and the constant research on colour and its application are a source of inspiration.
---
---